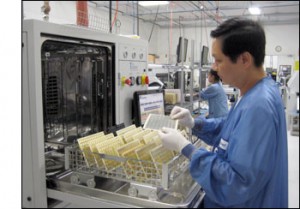 History has proven the Z-Comm tradition of manufacturing technology leadership. Anticipating the needs of the wireless revolution, we have been pioneering VCO standards and imprinting our footprints on the path of wireless development since our founding in 1987. We supplied the first commercial SMT-based VCO solution for the commercial VSAT market with our "S" style package measuring 20mm x 20mm. We continued to innovate reductions in packaging technology and, in 1992, we began manufacturing the 12.7mm x 12.7mm MINI packaged VCO.
With the need for ultra-small VCOs for the emerging Wireless Local Area Network (WLAN) market that were PCMCIA compatible, Z-Comm launched the SMV Series of VCOs in 1994, measuring a scant 7.6mm x 7.6mm. This was followed by yet another technological accomplishment when the USSP package measuring an unbelievable 5mm x 5mm was introduced in 1998 – the ideal solution for ultra-compact handsets.
While these reductions in packaging technology have been impressive, they have been accomplished through a firm commitment to the latest manufacturing technologies. Today, Z-Comm has the most advanced manufacturing lines in North America. Our superior advances in phase noise reduction technology through our patents have augmented our packaging and manufacturing expertise. Today, we provide our customers with the highest-performing VCO and PLL solutions in the industry.
Higher integration requirements along with further package reduction from our customers prompted the development of the Compact Phase Locked Loop series of product, measuring just 12.7mm x 12.7mm. We have also incorporated our ultra-low noise technology with most advanced package reduction technologies including Chip Scale Packaging (CSP) and the utilization of ultra-small passive technology.
In addition to our already advanced product offerings, Z-Communications, Inc. has again led the way in VCO innovation by introducing the first wideband tracking filter VCO with over an octave of tuning range.
Developing custom products using our advanced manufacturing capabilities is what we do best. If there is a module, subassembly or more, Z-Comm's staff can pool their extensive knowledge and experience to assist with your project needs quickly and cost-effectively.