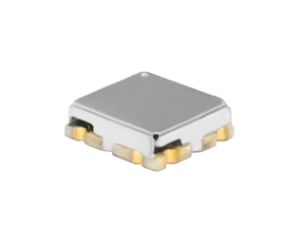 Z-Communications, Inc. is pleased announces the RoHS compliant VCO (Voltage Controlled Oscillator) model USSP2400-LF. The USSP2400-LF operates from 2400 to 2485 MHz within the tuning voltage range of 0.5 to 2.5 Vdc. This high performance VCO is available in an ultra-compact USSP package measuring only 0.2 in. x 0.2 in. x 0.04 in. and conserves precious energy by typically consuming less than 18mW. The USSP2400-LF is designed to operate off a 2.7 Vdc supply and drawing only 6 mA of current.
The USSP2400-LF features phase noise performance of -83 dBc/Hz @ 10 kHz offset and delivers typically -1.5 dBm of output power into a 50 ohm load.  This unequalled VCO provides exceptional linearity across the frequency range and is guaranteed to operate over the industrial temperature range of -40 to 85°C making it suitable for the harshest of conditions. This low powered USSP2400-LF suppresses the second harmonic to better than -15 dBc, and is available in tape and reel packaging for production requirements making it ideal for automated surface mount assembly and reflow.
The USSP2400-LF is well suited for those 2.4GHz ISM battery-operated compact communication radio systems requiring small size and exceptional performance. Additional specifications for this product can be found online.
For further information on this model or any other product from Z-Communications, Inc. please contact our Applications department via email at [email protected] or call us at 858-621-2700.
Part Number: USSP2400-LF
Delivery: Stock-8 weeks