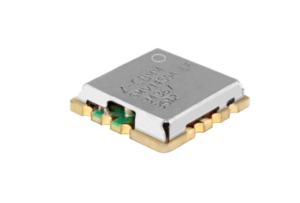 Z-Communications, Inc. announces the RoHS compliant VCO (Voltage-Controlled Oscillator) model SMV4596L-LF for highly stable clock generators. The SMV4596L-LF covers 4595 to 4598 MHz within a tuning voltage range of 0 to 2.5 Vdc. This low cost VCO consumes typically less than 15mW of power while still delivering phase noise performance of -81 dBc/Hz @ 10 kHz offset. This unparalleled VCO operates off a 2.8Vdc supply while drawing a mere 5mA of current.
The SMV4596L-LF is designed to deliver -1±2dBm of output power into a 50 ohm load while operating over the industrial temperature range of -40 to 85°C. This remarkable VCO is further enhanced by its better than 1.1:1 linearity making it easier for PLL designers to integrate into their system due to its consistent behavior. The SMV4596L-LF features a typical 2nd harmonic suppression of -25 dBc and comes in Z-COMM's industry standard SUB-L package measuring 0.3 in. x 0.3 in. x 0.08 in. It is available in tape and reel packaging for production requirements. The SMV4596L-LF is also ideal for automated surface mount assembly and reflow.
In addition to high precision clocks, the SMV4596L-LF is also well suited for mobile test equipment applications where low power consumption and small size is a must. Additional specifications for this product can be found online.
For further information on this model or any other product from Z-Communications, Inc. please contact our Applications department via email at [email protected] or call us at 858-621-2700.
Part Number: SMV4596L-LF
Delivery: Stock-8 weeks